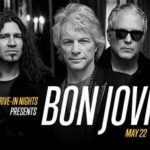 Rock and Roll Hall of Fame band Bon Jovi to kick off summer concert series at Encore Drive-In Nights Saturday, May 22, 2021.
 At 300 drive-in theaters and outdoor venues PLUS select indoor cinemas across North America.
Our locations are:
Dance and sing the night away as the set-list features fan favorites and rare gems from Bon Jovi's multi-platinum selling catalog, with personal stories behind some of the most famous songs in music history.
Amazing concert experience without the hassle of the long drive, parking, lines and crowds – enjoy the full length concert broadcast on the big screen with your own personal space and comfort.
For tickets and information visit encorenights.com