Baltimore Humane Society's Shelter Managers Locked in Cages-Need Public's Help on Giving Tuesday 
November 27, 2018-Reisterstown, MD — Baltimore Humane Society's shelter managers are locked in cages!  Katie Dixon, Shelter Program Director, and Dawn Hallam, Dog Kennel Manager, are unable to care for the no-kill shelter's animals this Giving Tuesday.
Dixon, locked in a cat cage with adoptable cats and Hallam, locked in a dog run with adoptable dogs, need the shelter to reach its fundraising goal on this national day of giving in order to get the key to open the cage doors.
On November 27th the whole nation joins together for Giving Tuesday, a day of giving.  The day kicks off the holiday season with the spirit of love and caring.  Baltimore Humane Society is counting on animal lovers to make donations so that it can care for the area's countless homeless pets who cannot speak for themselves.  The no-kill shelter runs solely on the support of the community.  As a private, non-profit it receives no operating funds from the government or from any national humane society.
Baltimore Humane Society's mission includes:
rescuing, caring, and finding homes for homeless pets
striving to end the euthanasia of healthy, adoptable animals by promoting and offering affordable spaying and neutering to control the population of unwanted animals in our area and addressing the issues that cause people to give up animals
ensuring a peaceful final resting place for beloved pets through the operation of a beautiful and well-maintained cemetery for companion animals.
The magic number that will free the shelter managers so they can care for the dogs, cats, and small animals at Baltimore Humane Society is $15,000.  Donations can be made online at bmorehumane.org/giving-Tuesday, by calling 410-833-8848 ext. 212, or texting the word 'wag' to 50155.
In the past year, Baltimore Humane Society has worked tirelessly to help the entire region's homeless pets. In addition to the pets surrendered directly to the no-kill shelter, it also transferred in almost 600 dogs and cats from the region's bulging open admission shelter cages.
About the Baltimore Humane Society
The Baltimore Humane Society, founded in 1927 by Mrs. Elsie Seeger Barton, is an independent, non-profit, no-kill animal shelter, which offers low-cost veterinary care to the public, and a pet cemetery with grief support services.  We receive no operational funding from the local or federal governments, or any national animal welfare organizations.  For more information about BHS, and how you can contribute, volunteer, adopt, or foster, please visit www.bmorehumane.org or call 410-833-8848.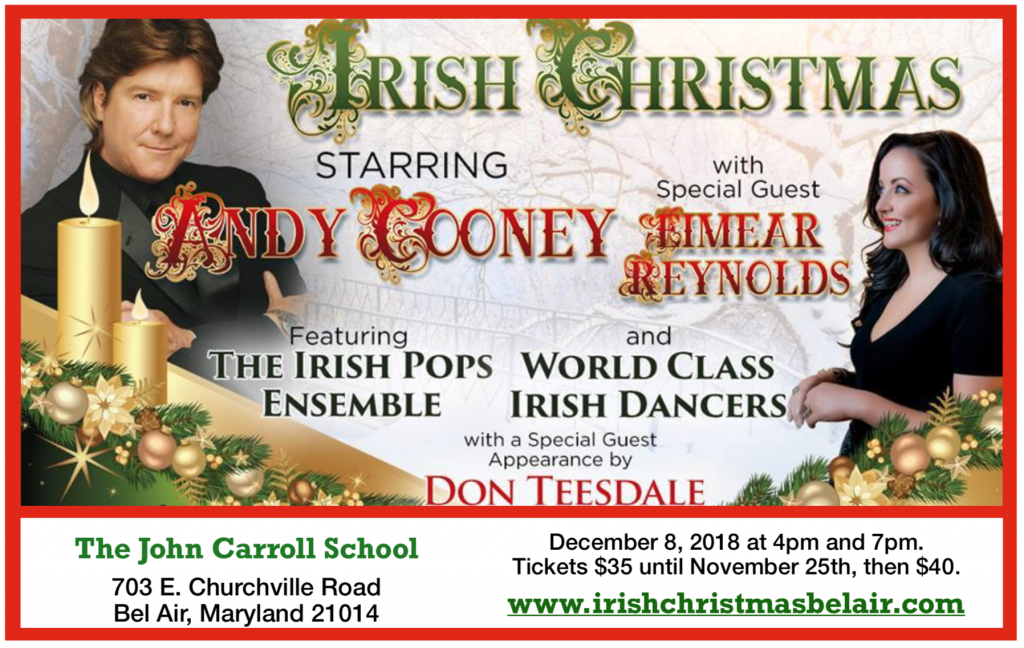 Irish Christmas Bel Air Starring Irish Tenor, Andy Cooney,  2018 Rose of Roscommon,  Eimear Reynolds, and local musician, Don Teesdale.
This one day performance will be at The John Carroll School, Bel Air, MD on Saturday, December 8th at 3pm and 7pm.
Enjoy dinner before or after the show on December 8th as several Bel Air Restaurants are offering special discount to all guests with Show Ticket 
Stubs.  (Looney's Pub; Sean Bolans; 510 Johnny's; Main Street Tower; Buontempo Brothers; and Fisherman's Catch).
The Spirit of Ireland and Christmas comes alive as 
Andy Cooney
 once again gathers together the finest musicians, dancers and performers as they celebrate the most celebrated time of year in the Irish tradition.  Andy Cooney's special guests will be Direct from Ireland, 
Eimear Reynolds
, World Class Irish Dancers and the Irish Pops Ensemble.  Local musician, 
Don Teesdale
 will also join the show in Bel Air, Maryland for a special one night performance !!  Our Narrator will be Baltimore's beloved voice of radio, Alan Walden and our Emcee will be Baltimore Irish Community's favorite DJ, Ed McBride.
Send your PSAs to us at djrumbley@thebayonline.com