Baltimore Native Serves Aboard USS Philippine Sea
By Stephanie Fox, Navy Office of Community Outreach
MAYPORT, Fla. – A Baltimore, Maryland, native is serving aboard USS Philippine Sea, a U.S. Navy a Flight II Ticonderoga-class guided missile cruiser.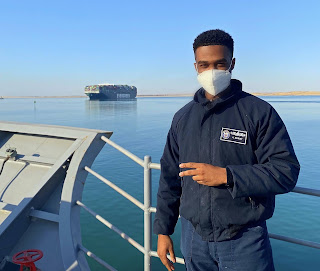 Petty Officer 2nd Class Anthony Mobley is a 2013 Severna Park High School graduate and current University of Maryland Global Campus student. Today, Mobley also serves as a cryptologic technician (collection). "My job deals with gathering classified information," said Mobley.
Mobley joined the Navy six and a half years ago for the opportunities the military offers.
"I joined the Navy to travel and to do something outside of Baltimore, Maryland," said Mobley. "I never applied for college because growing up I wanted to do something that the majority of people coming from high school don't do and so I found myself in the military. I chose my job, as well, knowing that my main duty station would be Fort Meade, Maryland (which unsurprisingly was my first command) and it was awesome because I could still be home, earn money, and travel outside of home with the military."
According to Mobley, growing up in Baltimore was good preparation for joining the Navy.
"Growing up in my hometown taught me that in a lot of circumstances you need to be able to do things on your own and make a way for yourself because your family and friends can't be the only things you depend on to be successful in life," said Mobley. "Joining the Navy, you have to immediately cope with being away from family and friends, so it's good to know how to jump off the porch at a young age before you join the Navy."
The USS Philippine Sea's keel was laid in April 1986 in Bath, Maine, and she was commissioned in March 1989. She is the second ship to bear the name, after an aircraft carrier. Philippine Sea has participated in Operations Desert Shield and Desert Storm, Operation Iraqi Freedom, and Operation Ocean Shield to name a few. The USS Philippine Sea conducted initial Tomahawk strikes in Afghanistan in 2001 at al-Qaeda terrorist training camps and Taliban installations for Operation Enduring Freedom, and in 2014, she fired Tomahawks in the Persian Gulf at sites in Syria, targeting training camps and weapons depots.
According to Navy officials, Flight II Ticonderoga-class guided missile cruisers are multi-mission surface combatants capable of supporting carrier battle groups, amphibious forces, or of operating independently and as flagships of surface action groups. Cruisers are equipped with Tomahawk cruise missiles giving them additional long range Strike Warfare capability. Some have been outfitted with Ballistic Missile Defense capability.
Though there are many opportunities for sailors to earn recognition in their command, community and careers, Mobley is most proud of being able to see more of the world.
"The biggest accomplishment and most satisfying thing I've gotten out of the Navy is being able to go and visit different countries," said Mobley. "I've visited the following countries and cities so far: Halifax, Nova Scotia; Copenhagen, Denmark; Bergen, Norway; London, England; Amsterdam; Germany; Scotland; Poland; Stockholm, Sweden; Estonia; Latvia; Greece; Bahrain; Spain; and different states in the United States."
As a member of the U.S. Navy, Mobley, as well as other sailors, know they are a part of a tradition providing the Navy the nation needs.
"Serving in the Navy means that I represent the people looking for a way to try something new in life," added Mobley. "They can see the pictures I post of myself traveling, all the Navy photographs on the command social media posts, and can use that as possible motivation to join or not to join and can see if it's the right thing for their life. You never really know how the military is until you join, so the best I can do is give others an insight on how my life is in the military through photographs and social media posts."
Send your PSAs to: