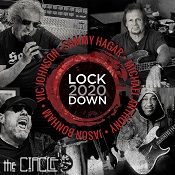 Sammy Hagar & The Circle's "Lockdown Sessions" began in March, when the COVID-19 shelter-at-home order went into effect. With time on their hands and their upcoming tour in limbo, the band's legendary drummer Jason Bonham challenged his bandmates Sammy Hagar, Michael Anthony and Vic Johnson to record a warmup jam they'd been playing backstage before concerts for several years.  Equipped with iPhones and their respective instruments, they each laid down their individual tracks from the den, music room, closet and even showers of their homes, and "Funky Feng Shui" and the band's Lockdown Sessions were born. 
Take a listen below to Colleen's chat with Jason Bonham about the album, hopeful tour and what Jason has learned during lockdown…then pick up the album available today!
Sammy Hagar & The Circle announced the release of their massively popular Lockdown Sessions as an album collection titled, "Lockdown 2020," today-January 8, 2021. To purchase the album, click here.
Colleen chats with Jason Bonham about "Lockdo...
100.7 The Bay: On-Demand Interviews