Welcome to 100.7 The Bay's Craft Beer Blog from Jefferson The Craft Beer Guy!
Note: Blogs are the written form of the Craft Beer on The Bay podcast.  To listen, click "Podcast", above.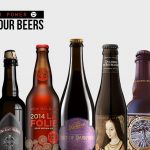 November 23, 2018 – Sours Over the last several years, a lesser known beer style has been steadily making some noise and gaining popularity.  As you know, I'm a...