Welcome to 100.7 The Bay's Craft Beer Blog from Jefferson The Craft Beer Guy!
Note: Blogs are the written form of the Craft Beer on The Bay podcast.  To listen, click "Podcast", above.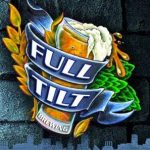 As you now know, Full Tilt Brewing has opened a new brewery and taproom just a few blocks south of Belvedere Square on York Road.  The Full Tilt Brewery...