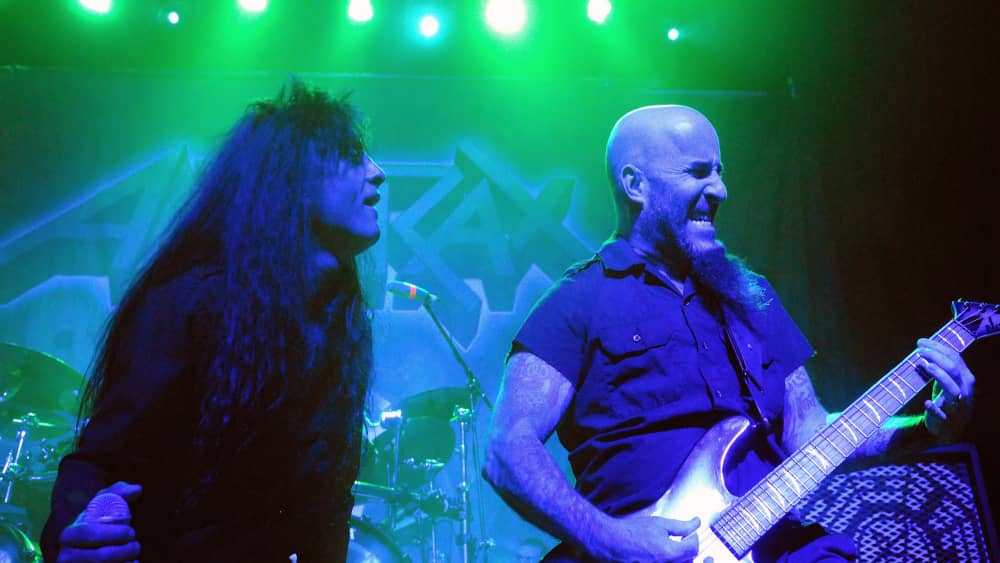 Anthrax have shared a video for their brand new single "Aftershock", from their forthcoming 40th anniversary concert package, "XL". The new package was captured during a special livestream event on July 18th, 2021 at the Los Angeles soundstage/studio. It will be released in North America on July 15th on Blu-Ray/CD/Digital. A Blu-Ray release (including 2CD + 1Blu-Ray) will follow on July 22nd.
Drummer Charlie Benante said:  "Forty years doesn't feel like 40 years. Sometimes I have to remind myself about how long this strange trip has been. I enjoy playing these songs, they're such a huge part of my life, and I know for a lot of our fans, they play a big part in theirs as well."
Said vocalist Joey Belladonna:  "Even though we were performing in a studio with just the crew there, we played that set like we were in front of 50,000 screaming fans. I felt like we made a full-on connection with everyone watching from their homes or wherever, and that they connected with us. It was quite an intense experience."
Watch the video for "Aftershock" – here.
Anthrax Announce Blu-Ray and CD Release of 40th Anniversary Livestream Concert
Editorial credit: TDC Photography / Shutterstock.com