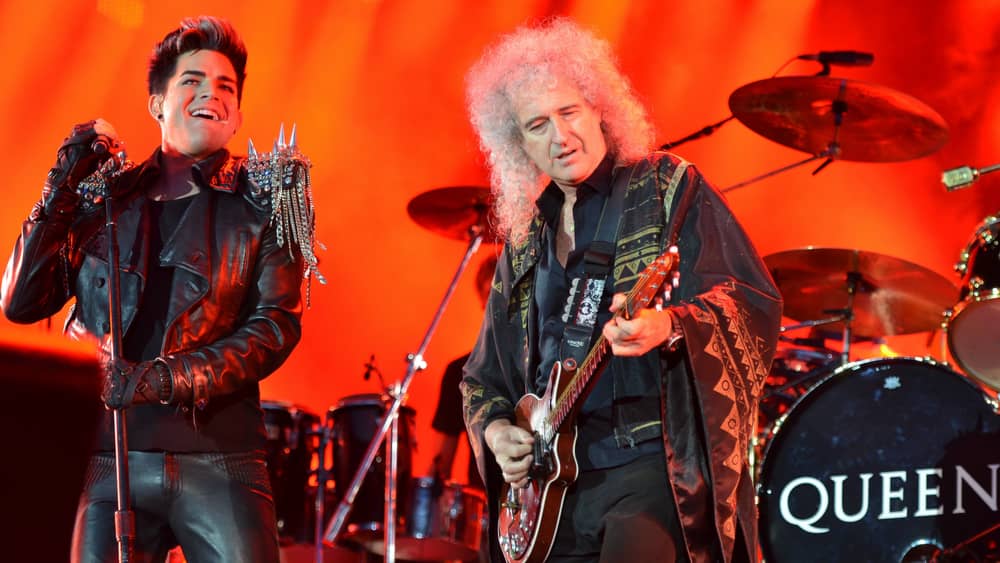 Queen + Adam Lambert will headline the Platinum Jubilee concert at Buckingham Palace in London on Saturday, June 4th.  The star-studded event also features Diana Ross and Elton John, in addition to Duran Duran, Craig David, Eurovision singer Sam Ryder, Ella Eyre, Elbow, Alicia Keys, Hans Zimmer, Mabel, Jax Jones, Celeste, Andrea Bocelli, Sigala and Nile Rodgers.  The Platinum Party at the Palace will celebrate Queen Elizabeth's 70th anniversary of taking the throne. It comes 20 years after Brian May performed "God Save the Queen" from the roof of Buckingham Palace at Her Majesty's Golden Jubilee.
Said Queen's Brian May: "Twenty years after playing the Queen's glorious Golden Jubilee we're very happy to be invited again. Then there was a moment when I wondered… after Buckingham Palace roof where can you go? Well… you will see!"  Diana Ross added: "Her Majesty has and continues to be such an incredible inspiration to so many across the world and I was absolutely delighted to receive an invitation to perform on such a momentous and historic occasion."
A crowd of 22,000 is expected to attend the Platinum Party at the Palace, with 10,000 tickets allocated to the general public and 7,500 to key workers, members of the armed forces, volunteers and charity workers. It is among the numerous celebrations planned to mark the Queen becoming the first British monarch to reign for 70 years. The full concert will be broadcast by the BBC on television and online.
Editorial credit: Dziurek / Shutterstock.com