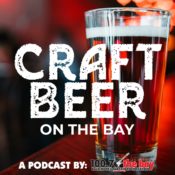 I've talked about so many different New England Style Hazy IPAs lately, that I really wanted to try to change things up a bit and venture out. So, while I was at a friend's birthday party at Falling Branch Brewery, I decided to try their Orange Creamsicle Milkshake IPA.
First off, the color of it jumps out and gets your attention immediately. It's a bright vibrant color and entices you in right off the bat. The aroma is subtle, but fruity enough that it gets you ready for what you're about to taste. Then finally the taste is this really spectacular blast of fruit from the oranges that the beer is made with. The added lactose gives it a creamy mouthfeel for the creamsicle effect and offsets any bitterness that you might get from the hops.
The best compliment I could give this beer is that I knew people at the brewery who were not regular beer drinkers that all gravitated toward this particular beer. Anything like that, which can act as a gateway to ease people into the craft beer world is a home run in my book!
Cheers!
Matt Weitzel
100.7 the Bay's Craft Beer Guy
Email: mweitzel@thebayonline.com