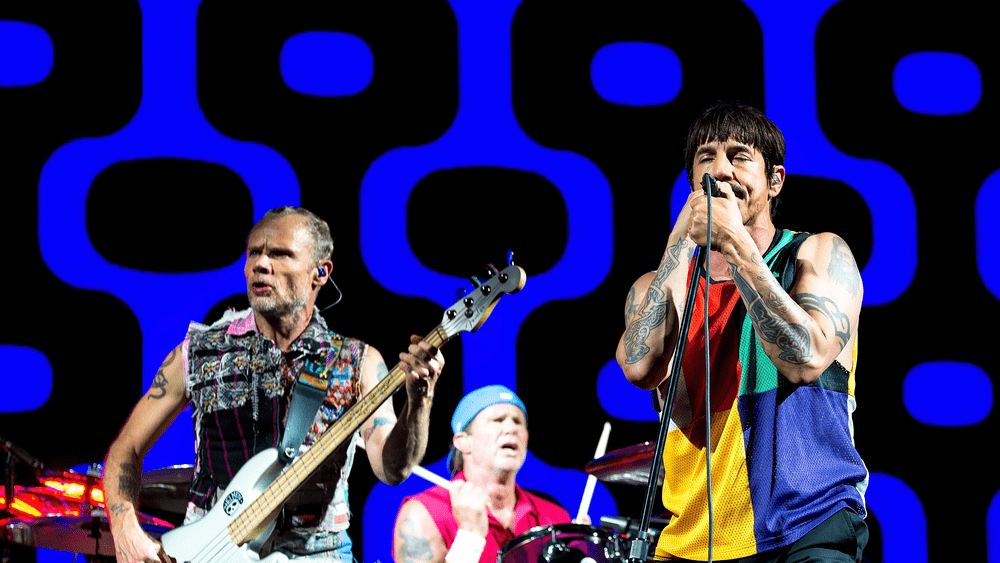 Red Hot Chili Peppers officially received their star on the Hollywood Walk of Fame, in a ceremony held on Thursday, March 31. The Chili Peppers star, the 2,717th overall, will be located in the second row at 6212 Hollywood Boulevard, adjacent to the Amoeba Records location on the south side of the street. The star will neighbor those of TV producer Harry Friedman, Wheel of Fortune host Pat Sajak and legendary talk show host Jack Paar.
Among those in attendance doing the honors of helping to unveil the star were actor Woody Harrelson and fellow musician Bob Forres. Said Harrelson: "Wow, this is fantastic. Well-deserved. I love these guys. I love, love, love me some Red Hot Chili Peppers. I met these guys back in the '80s before most of you were born. These guys really are some amazing people. The thing is they really care. I know they've given hundreds of thousands of dollars to an orphanage in Peru. They were the first guys, back before everything was digital in your era, they were the first guys to do non-wood post-consumer waste paper for their CDs, saving thousands of trees. On top of all that, they were the first people to really make the common, ordinary sock a central part of the fashion wardrobe."
First formed in 1983, the band's current lineup features vocalist Anthony Kiedis, bassist Flea, drummer Chad Smith and guitarist John Frusciante. The band's latest album, Unlimited Love, debuts on Friday, which you can stream: here.
https://www.audacy.com/music/alternative/watch-rhcp-get-their-star-on-the-hollywood-walk-of-fame
Editorial credit: Christian Bertrand / Shutterstock.com