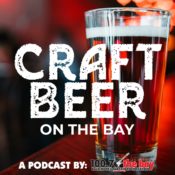 There are two things that just fit together for me. Beer and Pro Wrestling. Everyone has their thing they do to unwind, and for me it's my Wednesday night tradition of sitting down to have a drink while I watch All Elite Wrestling: Dynamite. So, when I saw that Full Tilt Brewing was doing a wrestling themed beer release this past Monday, I knew I had to go check it out.
Full Tilt partnered with Humble Beer Society to come up with three different wrestling themed beers, and the theme for this collab is sure to bring back all the nostalgia for fans of late 90's wrestling like myself. The first beer, entitled Hoppywood is a West Coast Double IPA that I absolutely love. Very hoppy, but still not so bitter that it's off putting. The label on the can features familiar favorites like Hollywood Hulk Hogan and Scott Hall painted green to look like hops and it's honestly some of the best artwork I've ever seen on a beer can.
The second beer, Wolfhop, features the iconic wrestler Sting complete with his black and red face paint, also painted green to look like hops. This one is an East Coast style Hazy Double IPA and it was by far my favorite of the three beers. I've yet to find a Hazy IPA that I didn't like and this one packs that citrusy punch that I'm a sucker for.
The third beer, Hopped Out, is another Hazy Double IPA, but this time fruited with Dragon Fruit and Guava. The added fruits brought a pleasantly surprising twist and it's different from any Hazy I've had before.
If you're a man child like me and love Pro Wrestling these beers are worth it just to collect the cans for their artwork, but it's always nice when the artwork is backed up by really great beer, and Full Tilt along with Humble Beer Society absolutely accomplished that.
Cheers!
Matt Weitzel
100.7 the Bay's Craft Beer Guy
Email: mweitzel@thebayonline.com