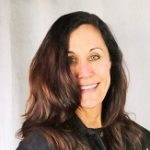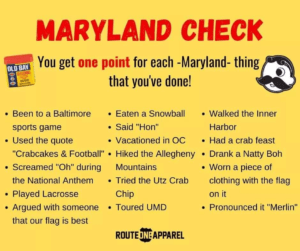 So I like this check list of "all things Maryland", however I think there's a few more things to add to it.   There's 16 here and I'm going to add 10 more (plus bonus points!) so make sure you incorporate my additions before you add up the grand total.  With the Route One Apparel checklist I checked off only 9, but I have certainly done everything on my list for a grand total of 24 points!
COLLEEN'S CHECKLIST
*Experienced Road Rage on 695
*Flew through the Bay Bridge EZ Pass toll lane with no EZ pass (when lanes were in place)
*Attempted to make your own crab soup
*Ate a fried Oreo at MD State Fair
*Brought Berger cookies to a dinner party
*Named a pet after a Maryland team (had a cat named "Raven")
*Say "Down'y Ocean" instead of "going to the beach"
*Put vinegar and/or Old Bay on french fries
*Taken a day off for Orioles Opening Day
*Have put a Maryland Crab sticker on my car
Bonus 5 Points ~ Have 100.7 The Bay on the first preset in my car!!
Hit me up!
Colleen Carew, Mornings 6-10AM

 Email here

 Facebook here