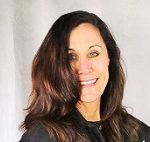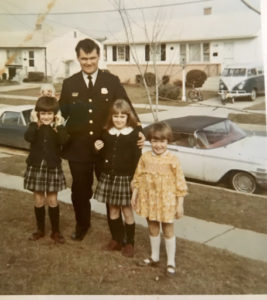 My Dad is Rad!
The Moms of the world had their time last month ~ now it's time to shine the spotlight on dear old Dad!  That light shines the brightest on the man that my world has revolved around for the past 50+ years.  I'm so blessed to still have my Dad in my life, 5 years after he lost his wife and my awesome Mom.  I was also fortunate enough to step away from The Bay for 21/2 years to take care of him in Ocean City where he loves spending his Golden Years.  Now we split his time between both sides of the Bay Bridge so he can spend more time with his 3 daughters and 8 grandkids.  Dad is "Cyril" to his sister, "Pat" to his Church friends and Doctors and "Moose" to everyone else.  He got that nickname from his days on the Police Force in Washington, DC.  It's so nice to switch roles and tend to his needs after all the years he devoted to his family and career.  I know when he takes his pills and how many, I know his favorite Networks (Fox and EWTN), his favorite meal (Salmon with Salad) and his favorite daughter (ME!)  The only thing I have a tough time with is what to get him for Father's Day, or any occasion, really.  He constantly reminds me that his Family is the best gift, but I hate that answer.  Everyone deserves a present, so I did a little digging around to find some ideas for the Man that is extremely hard to buy for.   Maybe this will help you out as well for Father's Day this year.  If not, I've included some corny "Dad Jokes" to at least give him a good laugh!
#1- Steaks!  https://bit.ly/3ddyo4Q
#2- Pistachio holder  https://bit.ly/2XbvcRE
#3- Lawn Chair  https://amzn.to/36IXfLx
#4- Socks  https://bit.ly/2Mbo8hD
#5- Pill organizer  https://bit.ly/2Mb5NRU
#6- Tea kettle  https://bit.ly/3ch0b37
#7-Slippers  https://bit.ly/2XbV14e
#8- American flag  https://bit.ly/3gJW5UK
#9- Ice Cream scooper  https://etsy.me/2XNwa5Y
#10- Perfect shirt (for my dad!)   https://etsy.me/2yNqb8E
Dad Jokes:  https://bestlifeonline.com/dad-jokes-so-bad-theyre-actually-hilarious/
HAPPY FATHER'S DAY!!!!!!!!
Hit me up!
Colleen Carew, Mornings 6-10am

Email here

Facebook here