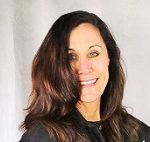 Un-Quarantine with Colleen
We posted this topic on our Facebook page @thebayonline recently:  What's on your Quarantine-release bucket list?  What's the first normal thing you'd like to do?  Lot's of "hug" responses.  Also, haircuts, get to the gym and, of course, go to a concert!  That won't be until phase 3 of the Roadmap to Recovery, but in phase 1 for me it's all about removing the word "Quarantine" from my vocabulary – I am so sick of hearing it!  Instead, I'm going to mix up a glass of Ovaltine and break out the sunscreen!  Seriously, I cannot wait for that first pedicure so I can finally wear a pair of open-toed shoes without scaring the children!  I'm ok waiting a little longer for a live show (just a little), but it will be so nice to be able to sit at a nice outdoor cafe instead of eating carryout at Casa Carew.   Plus, I can finally make a trip to Goodwill to get rid of all the crap I've cleaned out of the house!
My dog Winnie is not a big fan of the groomer, but I think she's looking forward to that first visit since I keep mistaking her for a mop. 
The past couple of months have really been hard on my dad in that he's a regular church-goer, so those lifted restrictions are a "God-send" for him.  Even though the churches can only accommodate 50% of parishioners right now, believe me – he will be the first in line every time (he's my speedpass to Heaven!)  
I really look forward to The Bay events to start rolling out so we can get reacquainted — it's been 2 years too long!  In the meantime, stay healthy & happy, soak up that sunshine (vitamin D) and keep putting your best mask forward:)
~Colleen

Email Colleen here

Mornings on 100.7 The Bay with Colleen Carew