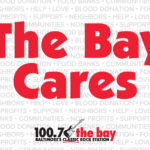 100.7 The Bay Cares. We partnered with Weis Markets for "Feeding Our Friends", a food drive to benefit The Maryland Food Pantry. 
Thank you so much for helping us in our Feeding Our Friends campaign. You have helped us collect over 30,000 pounds of food for The Maryland Food Pantry A Can-Can Make A Difference Program!
A Can-Can Make A Difference is the food program of the nonprofit, Adopt-A-Block Inc. They network with a host of local soup kitchens, pantries, churches, and federal programs to help feed those in need 365 days a year. Since their humble beginnings in 1991, they have moved over 4,000,000 pounds of food, helped with hurricane relief efforts, and are currently providing 40,000 families with food assistance each month.
100.7 The Bay Cares. We're doing our best to help the Red Cross community in this time of need.
Here is information on how we all can help The Red Cross collect some much needed blood during this critical shortage. 
Click Here for the link for the Towson Community Blood Drive this Friday, June 5th 10 am – 4 pm Towson Town Center.  By appointment only!
Just click here to find out how you can pledge to give blood.
Click here for the link to help you understand the type of blood donations needed.
Pledge your support and join us to help ensure patients get the lifesaving blood they need. Thank you!
Check out Matt Davis as he interviews Misty Bruce from the American Red Cross of the Greater Chesapeake Region.