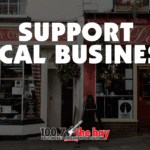 Please support our local restaurants and businesses in Maryland during these turbulent times. Here is a list that we are constantly updating of establishments that are open for delivery and/or take-out,curbside-pick up and on-line gift cards.
If you would like to add your local restaurant or business send an email with your business name, hours, contact number and website link to Donna Jean at djrumbley@thebayonline.com. Stay safe.
Anne Arundel County Restaurants
Annapolis Smokehouse and Tavern:
410-571-5073 Carry-out hours 11 a.m. to 9 p.m.
410-216-6206 Carry-out 11:30 am-8 pm. Beer and wine take-out, too.
410-263-4794 Breakfast carry-out 7 am-3 pm.
410-761-8001 Carry-out and curbside pick-up.
Baltimore City Restaurants & Breweries Open For Take-Out
410-522-3940 Carry-out 7am-3pm 
443-591-5527 Located at 175 West Ostend Street, Suite B-1 Baltimore, MD 21230
 10:30am-9pm. Take-out only. 
443-288-9626  Located at 1215 East Fort Avenue Baltimore, MD 21230
410-467-7837  Located at 401 E. 30th Street Baltimore, MD 21218
410-662-4914  11 am – 9 pm. Pickup only
Aldo's owner Sergio Vitale and Cafe Gia owner Gia Fracassetti have created a website for patrons to order takeout and delivery from their favorite Little Italy restaurants.
410-889-5272  8am-7pm On-line, carry-out and curb-side pick-up. Delivery through delivery services.
Curbside station from 11 a.m.- 6 p.m. Wednesday through Sunday, and 12-7 p.m. on weekends. Online ordering is now also available.
410-244-8900  Located at 4216 Shannon Drive Baltimore, MD 21213
410-244-8900 Closed for now but you can order a gift card here. Find out about Oliver Brewery beer delivery here.
410-539-4675 Open for carry-out and delivery.
410-467-0290 Located at 1700 Union Avenue, Suite D Baltimore, MD 21211
443-438-5765  Located at 1625-C Union Avenue Baltimore, MD 21211
Baltimore County Restaurants & Breweries Open For Take-Out
410-527-1226 Drive-through 11 am -6 pm
All Locations Around Baltimore. Delivery and Take-Out (only for curbside pickup).
Boulevard Diner:
410-285-8660 Order on-line here.
9942 York Rd. 11am-8pm.  Delivery : 10:45 am-6 pm (advanced notice) & Take Out : 11 am-8 pm
Crack Pot Seafood Restaurant & Liquor Store:
410-828-1095. Call for updates on carry-out. Liquor store open 7 days a week.
256-2770 Carry-out only 12-7.
Delivery and online.  Hours: Fri. 12-9, Sat. 12-9 Sunday 12-8. 410-401-4014 (Fallston) or 410-825-3473 (Baltimore) 
 (443) 835-2248 Hours: 3-7pm Curbside pickup for its cans and crowlers.
443-829-2142  Located at 16200 Markoe Road Monkton, Maryland 21111
410-6334040 Carry-out and the food truck is moving around the region, check out their social media.
410-665-7000 Call for updates.
443-250-9523  Located at 2500 Grays Road, Suite A Dundalk, MD 21222
Ledo Pizza is offering carryout only. Various locations.
All locations Open for carry-out food and curbside pick-up, beer, wine and spirits from 4-8 pm.
410-828-1625 Curbside Carry-out.
Sunday thru Thursday 12-7  Friday & Saturday 12-9. Curbside Pick-Up
11am-7pm Carry-out, curbside pick-up all locations and drive through at Hunt Valley location.
Cockeysville: 410-666-0030/Parkville: 410-661-4367 Carry-out/curbside pick-up
410-825- 5316 Now closed.
410-687-7733 Carry-out only. 11am-10pm.
410-931- 782711-8 pm. Delivery and Take-Out.
410-242-6472 10a-10p Take-Out Only.
410-833-8850 Curbside Pick-up and local delivery 4pm-8pm daily.
Carroll County Restaurants
410-795-1041 Wednesday-Sunday 11-7pm. Take-out only. 
Take-Out.3-8pm
11am-9pm, Delivery, Take-Out.
12pm-pm, Take-Out
410-751-1750  Taneytown Carry-Out  &  Drive Thru  pickup for full menu (breakfast too) 8am – 7pm   (7 days a week)
Harford County Restaurants & Breweries Open For Take-Out
410-836-8702 Order delivery here.
11am-8pm. Delivery & Take-Out
443-617-7539  Located at 825 Highland Road Street, MD 21154
410-836-8313  Located at 148 North Main Street Bel Air, MD 21014
Sean Bolan's Irish Pub & Restaurant: 
410-420-9858 Open at 4 pm for Carry-Out.
443-528-7443  Located at 2128 Whiteford Road  Whiteford, MD 21160
410-838-8770 Delivery or Curbside carry out.
Howard County Restaurants & Breweries Open For Take-Out
Double-T Diner
410-750-3300 Order for delivery here.
443-345-9699  Located at 9445 Washington Blvd North Laurel, MD 20723
La Palapa Mexican Grill and Restaurant:
410-465-0070 Order on-line here.
410-461-4600 Friday 4-8 Saturday 3-8.
410-997-7771  Located at 4411 Manor Lane Ellicott City, MD 21042
Sea King Seafood Markets and Carry-Out:
410-465-9663 Call for updates.
410.680.8974  Curbside carryout 11:30-8 pm daily and delivery with UberEats.
410-750-1880 Carry-out and curbside pick-up. 7 Days a week 11a-9p.
Delivery Services
Please support our local businesses that are open, too!