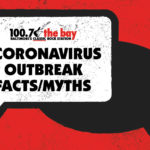 There is a lot of information out there right now about COVID19/Coronavirus Outbreak affecting our lives and our communities. 100.7 The Bay is dedicated to being your media resource to provide the facts/myths that you need to know.
FACT:  The COVID-19 virus can be transmitted in ALL AREAS, including areas with hot and humid weather.
MYTH: people in warmer climates of the U.S. can't get COVID-19
FACT: Cold weather and snow CANNOT kill the new coronavirus outbreak 
MYTH: COVID-19 will die off now that it's springtime
FACT: Antibiotics do not work against viruses.  Antibiotics are only effective against bacteria and have no effect on a virus
MYTH: Antibiotics can prevent and treat Coronavirus.  NO!  Antibiotics are only effective against bacteria and have no effect on a virus
FACT: COVID-19 can live on surfaces for up to three days
MYTH: Spraying alcohol or chlorine all over your body can kill viruses that have already entered your body
FACT: COVID-19 poses a greater risk to people with obesity
MYTH: healthy people can't get the coronavirus
FACT: Children, teenagers and people in their 20's are being diagnosed with coronavirus.  People of all ages are being infected
MYTH: only people over 60 years old can get the coronavirus
•Avoid misinformation. For current statistics and procedures visit CDC and Coronavirus.Maryland.Gov here 
*NEW! Visit the Maryland Coronavirus Rumor Control website here
•The need for blood is critical, if you are healthy and able, please contact the Red Cross and donate blood
•During the COVID-19 pandemic,  social distancing in person is important but, reaching out to friends and family is more important than ever. Send a text, an email or a social media message to friends and family letting them know you are thinking about them and making sure they are okay
•Cover your mouth when you cough or sneeze
•While you're at home doing your part to stop the spread of coronavirus and be sure to listen to 100.7 The Bay, via your radio, our 100.7 The Bay Mobile App and your smart speaker.
•Follow news & updates from The Bay our social media –Facebook,  Twitter and Instagram
•March 23 ,2020: Maryland Governor Larry Hogan announced the closure of all non-essential businesses in Maryland as of 5PM. For a list of what businesses WILL remain open, click here
Take care of yourselves and look out for your community. We stand with you in these challenging days ahead!
-The Bay Staff