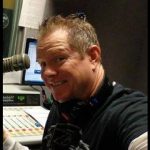 There's no good time for a recording artist to die. Especially in their fans' eyes.  If they die young, we usually say it's a shame and "what could've been."  If they pass away after their long career, we do honor them, but we still often say it was too soon.  This makes sense, because we've been attached to these performers longer than most of our friends and family. 
So when a rocker takes that stairway…or highway to the afterlife just as they are hitting it big, all of the above usually applies. 
AC/DC released their sixth album, Highway To Hell, in July of 1979 and the band instantly broke through on American radio with songs like Girls Got Rhythm, Touch Too Much and Highway To Hell.  Their '79 tour was a huge success too.  Then, seven months after the album's release, on February 19, 1980,  Bon Scott was found dead.  The night before, the legendary AC/DC frontman had been out drinking with friends who included Alistair Kinnear (a friend of Bon's girlfriend) and Colin Burgess, original AC/DC drummer.  Bon was only 33 years old.
Alistair Kinnear who was with Bon Scott, said he let the passed out AC/DC singer sleep in his own car which was parked outside of Bon's girlfriend's house.  He also reclined his seat so he'd be comfortable.  Probably not the best choices at the time.  Kinnear said he discovered Bon's body in the car at 7.45pm on the next night, Tuesday, February 19.  Oddly, Pete Way from the band U.F.O says that he was informed about Bon's death way earlier, on Tuesday morning, and he informed the guys in AC/DC….So, what happened?
There are conflicting stories and theories.  We do know that Alistair Kinnear was never heard from again.
The official cause was listed on the death certificate as "acute alcohol poisoning" and classified as "death by misadventure." Bon Scott was an asthma sufferer and it was concluded that he ultimately choked to death on his own vomit.
Some reporters jumped the gun and reported that Bon Scott froze to death on the morning of February 19th even though temperature records for that day say that it was above average and not freezing.  Not the best theory.
Colin Burgess, who stated he remembered Bon leaving the bar prior to his death, said "he was alright – like he wasn't drunk at all." –Hmmm, the dude passed out in his car and died.  Something had to cause it, right?
Jesse Fink, the author of a recent book about AC/DC's Bon Scott is sure that the singer died as a result of heroin, and not alcohol poisoning after interviewing Bon's girlfriend at the time.  There was no heroin detected on the toxicology report, but the author thinks the medical examiner found alcohol poisoning and stopped there.
So was he wasted on alcohol?  Was he doing heroin?
We do know one thing.  Bon Scott was scheduled to go into the studio the next day to record vocal tracks for the album Back In Black.  If he would've lived to see his bandmates the next day, the sound of my favorite album and the best selling album ever by a band definitely would've sounded different. 
Does a rocker's cause of death' add to their legacy? Often their death ends a long story of drug abuse and debauchery.  I've always thought I wanted to either die doing something I love, or pass away in my sleep.  Maybe both occurred here.  Rest In Peace Bon.  No matter how you went, you were one of the best!
Mike Brilhart
Weeknights 7pm-Midnight