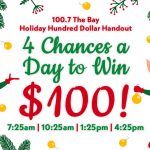 It's 100.7 The Bay Holiday Hundred Dollar Handout Contest!
Now until Thanksgiving…listen for the winning text keywords at 7:25am with Stash, 10:25am & 1:25pm with Joanna Campbell and 4:25pm with Huber. 
You'll have 10 minutes to text that word to 410-584-1007. We'll pick a random winner each time to win ONE HUNDRED DOLLARS!
This contest is for 100.7 The Bay listeners! This is not a national radio contest..if you're a listener, you have a shot at winning! 
After ten minutes, one texter will be selected at random from all correct texts and will receive a phone call from 100.7 The Bay. If the first random texter does not answer, texters will be selected at random and called until the texter answers their phone. Contest entrants must answer the phone to win. 
See the Contest Rules HERE