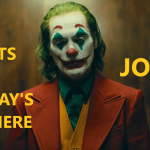 THIS THURSDAY WIN PASSES TO OUR ADVANCE SCREENING OF JOKER, THIS FALL'S CREEPIEST AND MOST ANTICIPATED BLOCKBUSTER!
 LISTEN FOR THE WINNING KEYWORD AT 25 PAST THE HOUR -EVERY HOUR -BETWEEN 7 AM AND 4 PM.
 YOU'LL HAVE 10 MINUTES TO TEXT THAT WORD TO 410-584-1007. 
AFTER 10 MINUTES, WE'LL SELECT A RANDOM WINNER TO JOIN US FOR OUR EXCLUSIVE ADVANCE SCREENING OF JOKER.
FROM THE STATION WHERE WINNING IS NO LAUGHING MATTER-100.7 THE BAY-BALTIMORE'S CLASSIC ROCK!