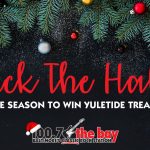 'Tis the season to win Yuletide Treasures from The Bay!
YOU'VE BEEN A GOOD BOY OR GIRL THIS YEAR, SO WHY NOT LET 100.7 THE BAY DECK YOUR HALLS WITH  OVER

$4,000

  WORTH OF GIFTS THIS HOLIDAY SEASON?
All this week listen to 100.7 The Bay for the "DECK THE HALLS" winning keywords at 7:25 am, 11:25 am. 2:25 pm and 5:25 pm.  
When we give you the keyword, you'll have 10 minutes to text that word to 410-584-1007. 
Each time, one qualifier will win $ 25 Jeppi Nut and Candy Company gift card wrapped in Holiday Pet Scratch Offs from The Maryland Lottery. ($35 + value) You will be qualified for the grand prize package with over $4,000 worth of prizes including:
Reverse Osmosis Drinking Water System and Installation from Atlantic Blue Water Services. ($700 value)

A $ 500  Gift Card from The Liquor Pump in Parkville.  ($500 value)

A professional-grade backpack blower from Liberty Discount Lawn Equipment. 

($500 value)

A $500 Gift Card to Soundworks-Maryland's Premiere Audio & Tint Specialists. ($500 value)

A $500 Gift Card to House of Tropicals in Glen Burnie ($500 value)

A $1000 Gift Card to SMYTH Jewelers in Timonium ($1,000 value)

The Maryland Lottery Holiday Pet Scratch-Off Tree ($100 + Value)

A $500 Gift Card to Office Furniture Loft ($500 Value)
Brought to you by: