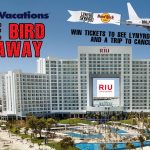 Starting Monday October 15th , 100. 7 The Bay wants you to be Free as a Bird when you have the chance to hang with us at the Hard Rock Cafe Baltimore and maybe leave here tomorrow as you walk away with Lynyrd Skynyrd tickets and a trip on a FREE BIRD to Cancun!
 When you hear the Free Bird Flyway Key Word you will have 10 minutes to text it to us at 410-584-1007 to win a gift card from the Hard Rock Café.
 Then you will join us at the Hard Rock for our FREE BIRD FLYAWAY party on November 14th.
 We'll be giving away Lynyrd Skynyrd concert tickets to the show at Royal Farms Arena on November 16th.
 One grand prize winner will win a Funjet Vacations getaway for two to Cancun with all-inclusive accommodations at RIU Palace Peninsula.
 To book your Funjet Vacations getaway, Click HERE or call your local travel agent
 From 100.7 The Bay, your FREE BIRD FLYAWAY STATION and The Hard Rock Cafe Baltimore!