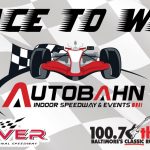 100.7 The Bay and Autobahn Indoor Speedway want to send you to the Monster Energy Nascar Cup Series Race at Dover International Speedway on October 7th!
All this week  listen to 100.7 The Bay between 10 and 7 for the chance to win. We will be
qualifying people all week to join us at Autobahn Indoor Speedway on August 17th in Jessup or the 24th in White Marsh, to drive the fastest lap.
Qualifiers have a choice of the White Marsh or Laurel location. Each racer will be timed, and the fatest driver wins their way in to the Dover Race in October, while everyone else wins a gift card to Autobahn Indoor Speedway.