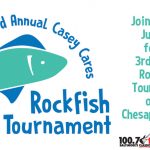 100.7 The Bay is teaming up with Casey Cares for the 3rd year in a row!
Join us June 1st for our 3rd Annual Rockfish Tournament on the Chesapeake Bay! You'll not only have fun, but help a great cause! To get all the details on the tournament, click here.
To learn more about Casey Cares, or to make a donation, head to CaseyCares.org or call 443-568-0064
And while you're here, check out this video WMAR made about last year's tournament. Just click here.